I've had a really fun birthday, today. I didn't take a whole lot of pictures, because I was driving, and looking at museum exhibits.
We drove the hour and forty-five minutes from Indianapolis, Indiana, to Dayton, Ohio, to the
National Museum of the USAF
at Wright-Patterson Air Force Base. It's been one of my favorite museums since I was young, and it has only improved with age as the collection continues to grow. You can walk around almost all the airplanes. You can walk under a few airplanes and see into bomb bays and the like. You can walk through a section of B-29 from the cockpit back through the bomb bay area. You can climb a ladder and look into the cockpit of the
Fairchild-Republic A-10 Thunderbolt II
, which is my favorite airplane EV-errr. It's a get-in-there-and-get-dirty airplane, designed to mince enemy tanks up into razor blades, and it does a right fine job of it. A half-second burst from its 30mm Gatling gun is
overkill
for most tanks. Depleted Uranium armor-piercing ammunition will do that, I guess. Have a look:
One of the hallways is a miniature memorial to the holocaust. Rather than just show gruesome photos and assorted memorabilia, the museum has acquired personal items and collected stories from people from around the Dayton, Ohio area.
The things in this area of the museum belong to the families of the children who might be walking through there on a field trip. There is a dryness in my soul for the whole business, and I took no pictures out of respect for those who suffered the atrocities. I attended a Jewish wedding some 20 years ago and heard someone describe the blue numbers tattooed on his arm as a "birthmark", and recalling the flat tone with which is said those words still gives me a chill.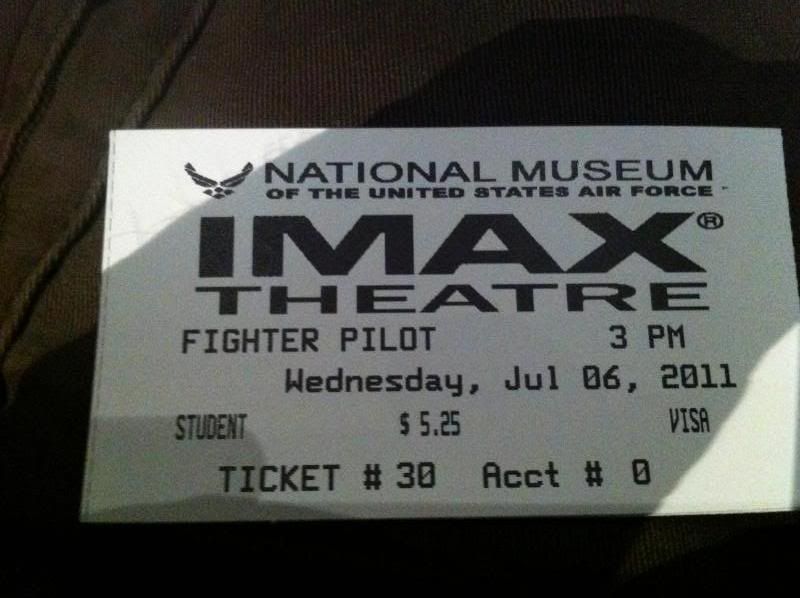 There's an IMAX theater at the museum, and we saw one of the three rotating films being shown. This follows a young F-15 pilot during
Operation Red Flag
, a combat training exercise which is held in the Nevada desert for two weeks. Aerial footage is incredible, especially when you hear the tower say,
*crackle*you are cleared for unrestricted climb to flight level 250*crackle*
and the guy stands the plane on its tail and you are looking past him straight down at the rapidly receding ground as he goes from the ground to 25,000 feet in less than a minute.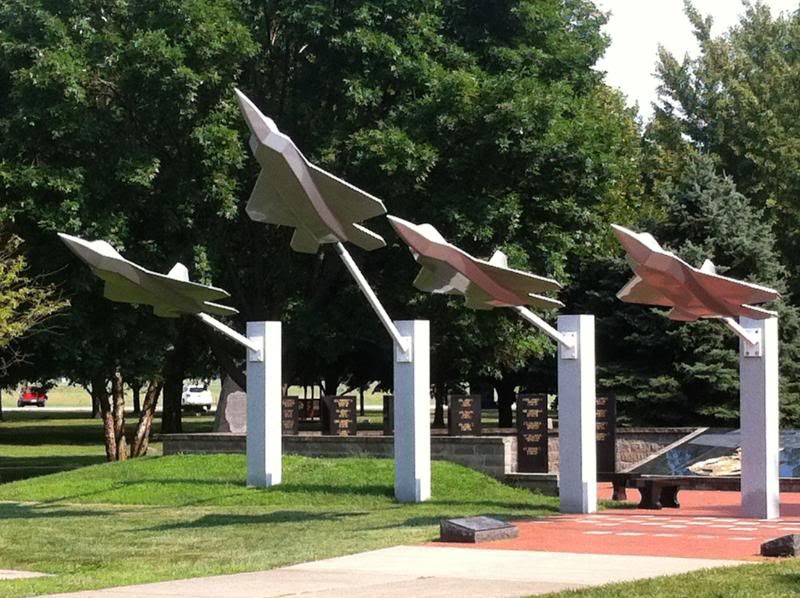 At the entrance to the museum is a sculpture depicting a flight of four
F-22 Raptors
, with the wingman pulling up and out of formation so that his spot will be empty and the other three can form the "Missing Man" formation. It's a way to honor a fallen comrade, and it's an awesome thing to see fly over.
We had dinner at BW-3s, and played the wireless trivia game (Buzztime) on the tvs as we ate. I love trivia games, and won the two or three games we had time to play while we were there, competing against other people in the place who were also playing.
When we got home, Grandmother came over with a birthday present for me: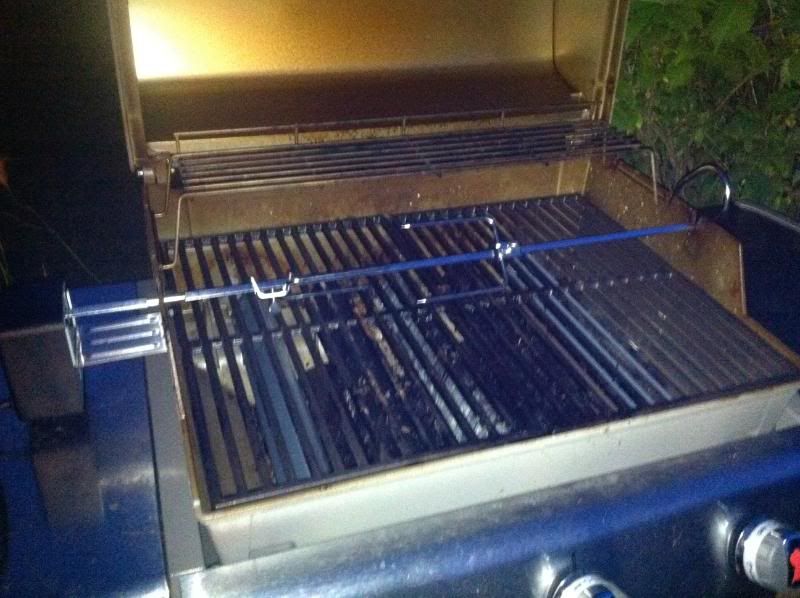 A rotisserie for my grill! Many chickens shall be sacrificed to the gods of tastiness and experimental sauces upon the Altar of Propane, I can tell you! I took this picture about five minutes after I opened the gift. I got all the parts out of the box and went right out onto my porch and installed it in the dark. I'd have headed to the supermarket for a chicken tonight, but I'd be the only one eating at at three in the morning when it was ready to serve. I'm not certain if it will be tomorrow or Friday that I'll get a chicken on there, but it'll be soon. Next will be a pork loin with a garlic-butter baste. Hmm...if I collect drippings from that, I could add citrus and make a tropical glaze of some sort...
It's been a really nice birthday. Spending time with my family, seeing pieces of history, listening to the voices of the past, and writing to you, all work together to fit into a great day.