possumcowboy
As I walked through the grocery recently, my eye was drawn to a bag which said it contained "gourmet specialty potato medley". There were yellow-skinned potatoes, pink-skinned potatoes, and purple-skinned potatoes. I was intrigued. So, I purchased, and after a few days of looking at them whenever I walked through the kitchen, I decided that oven-roasted would be a nice way to present these so that all the colors would be appreciated.
So, I diced 'em up. Half around the equator, then flat side down and quarter, making eight round-bottomed pyramids from each potato. I quartered and sliced an onion, and sliced up several cloves of garlic, which I added to the pan. I poured extra-virgin olive oil over them, sprinkled with rosemary and sage, ground some pepper and a little big of coarse sea salt, and put them in a cold oven. I set the oven for 400F, and when it chimed that it had reached that temperature, I reduced heat to 325F, so as not to scorch the extra-virgin olive oil.
The result was beautiful.
While the potatoes were in the oven, I made some sauce for the chicken breasts I was going to put on the grill.
1/2 cup ketchup
1/4 cup apricot preserves
1/4 cup soy sauce
1T brown sugar
1T unfiltered apple cider vinegar
a good squirt of ReaLemon
a good squirt of ReaLime
This is modified from a recipe I found in a magazine in the teachers lounge at Skiles Test Elementary, where I did my student teaching.
Chicken goes on the grill with high indirect heat (450F) for 6 minutes, turns, gets painted with sauce. Heat goes to low indirect (325F to 350F), and turns more sauce every four minutes for a total of about 24 minutes.
In my opinion, broccoli should be cooked
al dente
, just to the point that it's still a bit crunchy. Leah and Nathan like it smooshy, but since I'm cooking, I try for something in-between. It usually ends up closer to what I like, though. Turned out looking nice, though!
That's just steamed for a few minutes. Too much longer, and nutrients start to leach out. You're losing money, that way! You PAID for those nutrients!!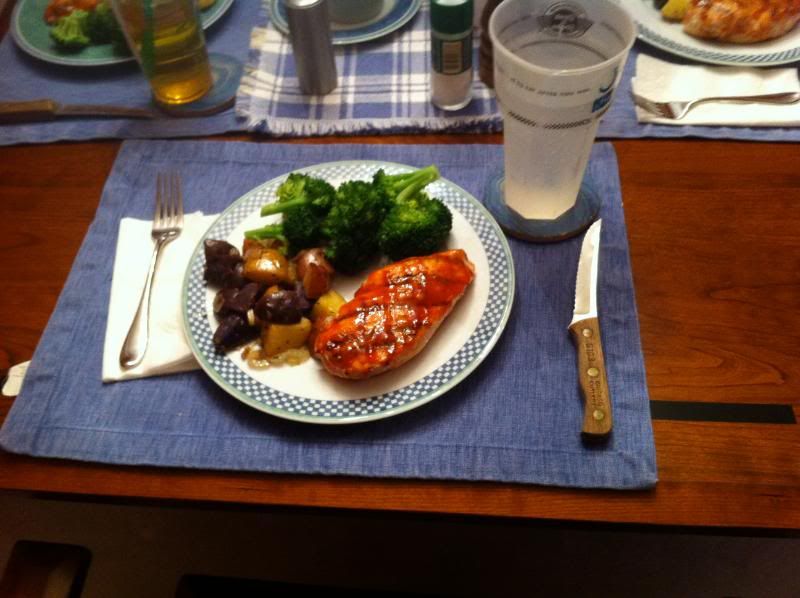 Plated up, with the
good
paper towels.